TFM provides all plumbing services including project management, maintenance and a 24/7 emergency call out service to all commercial sectors in Melbourne and throughout Victoria.
Our commercial plumbing maintenance services include:
Preventative maintenance service and advice.
Hot water service repair, installation and replacement
Commercial blocked drains – including waste water repairs
Kitchenette repairs including boiling water units and dishwashers
Toilet repairs and maintenance
Public bathroom maintenance
Heater repair and installation
Gas repair and installation
Roof leaks, repairs and guttering
Emergency plumbing
Storm water pits and drains
Backflow testing and prevention
Thermostatic mixing valves – annual testing and servicing
Leak detection
Hydro Jet drain cleaning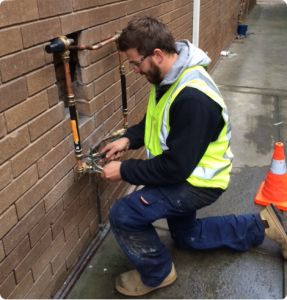 Our qualified and experienced plumbers provide superior plumbing services. TFM has developed an extensive programmed maintenance service for a number of various clients which include high rise buildings, commercial and industrial buildings, including hospitals.
We have the latest hydro jetting equipment which can clear blocked stormwater drains quickly and efficiently. Also, using the very latest in leak detection equipment, we can locate the leak and repair with minimal damage to the pipe and cost savings to the client. Camera surveys enable us to view the drainage system and establish the cause of the blockage and the best solutions for repairs.